2010 Gannon SBDC Awards Banquet where Allegheny Cellars won "Agribusiness of the year".
From left to right – Dennis & Rhonda Brooks of Natural Options, Grove City; Bill Rancic from the 1st "Apprentice" who was keynote speaker for the event and Tina West & Alan Chapel of Allegheny Cellars Winery.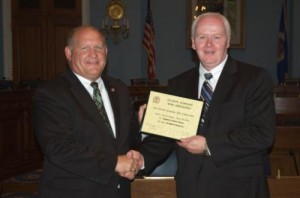 Alan Chapel from Allegheny Cellars winery is shown here with Congressman Glenn Thompson (R-5th) at the Atlantic Seaboard Wine Competition as part of 2010 Congressional Wine Caucus. There were 538 entries from 110 wineries in 11 states. Bigfoot Shadows was awarded a gold medal and "Best of Category"- Sweet Red Wines. Other winning wines were: Silver for Bull Hill Blush and Bronze for Riesling and Golden Dew Drop.
BUSINESS AWARD:
Warren County Chamber of Business & industry and Gannon SBCD presented Allegheny Cellars Winery with the 2009 Business Leadership LEADD Award – Excellence in Retail.
WINE COMPETITION AWARDS:
BIGFOOT SHADOWS – Best of Category – Sweet Red Wines – 2010 Atlantic Seaboard Wine Competition,Bronze – 2018 Farm Show Wine Competition, Silver – 2016 Farm Show Wine Competition, Bronze – 2016 Finger Lakes International Wine Competition, Bronze – 2015 Farm Show Wine Competition, Silver – 2014 Atlantic Seaboard Wine Competition, Bronze – 2014 Finger Lakes International Wine Competition, Bronze – 2013 Farm Show Wine Competition, Gold – 2013 Finger Lakes International Wine Competition, Silver – 2012 Farm Show Wine Competition, Bronze – 2012 Finger Lakes International Wine Competition, Bronze – 2012 International Eastern Wine Competition, Silver – 2011 Finger Lakes International Wine Competition,Gold – 2010 Atlantic Seaboard Wine Competition, Silver – 2010 Finger Lakes International Wine Competition,Bronze – 2010 Farm Show Wine Competition, Silver – 2009 Atlantic Seaboard Wine Competition, Silver – 2009 Farm Show Wine Competition, Bronze – 2009 Finger Lakes International Wine Competition, Bronze – 2009 Pennsylvania Wine Competition
BIG BEND BLUSH – Best American Variety Wine 2010 Farm Show Commercial Wine Competition, Silver – 2018 Farm Show Wine Competition, Bronze – 2018 Finger Lakes International Wine Competition, Silver – 2016 Finger Lakes International Wine Competition, Bronze – 2012 – International Eastern Wine Competition, Bronze – 2012 Farm Show Wine Competition, Gold – 2011 Finger Lakes International Wine Competition, Gold – 2010 Farm Show Wine Competition, Silver – 2010 Finger Lakes International Wine Competition
FAWND MEMORIES – Silver – 2016 Finger Lakes International Wine Competition, Bronze – 2016 Farm Show Wine Competition, Bronze – 2015 Farm Show Wine Competition, Silver – 2014 Farm Show Wine Competition, Silver – 2014 Atlantic Seaboard Wine Competition, Bronze – 2013 Finger Lakes International Wine Competition, Silver – 2012 Atlantic Seaboard Wine Competition, Bronze – 2012 Finger Lakes International Wine Competition, Bronze – 2012 Farm Show Wine Competition, Silver – 2011 Finger Lakes International Wine Competition, Silver – 2010 Farm Show Wine Competition
RIESLING – Silver – 2012 International Eastern Wine Competition, Bronze – 2012 Farm Show Wine Competition, Silver – 2011 Finger Lakes International Wine Competition, Bronze – 2010 Atlantic Seaboard Wine Competition, Bronze – 2009 Farm Show Wine Competition, Bronze – 2008 Farm Show Wine Competition
MOUNTAIN APPLE – Bronze – 2016 Farm Show Wine Competition, Silver – 2013 Finger Lakes International Wine Competition, Bronze – 2013 Great Lakes International Cider and Perry Competition, Bronze – 2011 Finger Lakes International Wine Competition, Bronze – 2009 Finger Lakes International Wine Competition, Bronze – 2008 Finger Lakes International Wine Competition
GOLDEN DEW DROP – Silver – 2016 Farm Show Wine Competition, Bronze – 2014 Atlantic Seaboard Wine Competition, Silver – 2013 Farm Show Wine Competition, Silver – 2012 Farm Show Wine Competition, Bronze – 2012 Finger Lakes International Wine Competition, Bronze – 2010 Atlantic Seaboard Wine Competition
BULL HILL BLUSH – Bronze – 2018 Farm Show Wine Competition, Double Gold – 2016 Finger Lakes International Wine Competition, Gold – 2016 Farm Show Wine Competition, Bronze – 2014 Farm Show Wine Competition, Silver – 2013 Farm Show Wine Competition, Silver – 2012 Atlantic Seaboard Wine Competition, Silver – 2010 Atlantic Seaboard Wine Competition, Silver – 2010 Farm Show Wine Competition, Bronze – 2010 Pennsylvania Wine Competition
BLUEBEARY – Bronze – 2009 Pennsylvania Wine Competition
CORNPLANTER'S TEARS – Bronze – 2013 Farm Show Wine Competition, Silver – 2012 Farm Show Wine Competition
WEST BRANCH WHITE – Silver – 2014 Finger Lakes International Wine Competition
WILLOW BAY WHITE – Silver – 2014 Finger Lakes International Wine Competition, Silver – 2009 Finger Lakes International Wine Competition, Bronze – 2009 Farm Show Wine Competition
HAPPY MOOSE – Bronze – 2012 Finger Lakes International Wine Competition
WILDCAT WHITE – Gold – 2016 Farm Show Wine Competition, Silver – 2016 Finger Lakes International Wine Competition, Bronze – 2015 Farm Show Wine Competition, Gold – 2014 Atlantic Seaboard Wine Competition, Silver – 2014 Farm Show Wine Competition, Double Gold – 2014 Finger Lakes International Wine Competition, Bronze – 2013 Finger Lakes International Wine Competition, Gold – 2012 Farm Show Wine Competition, Silver – 2012 Finger Lakes International Wine Competition, Silver – 2011 Finger Lakes International Wine Competition
TWO MILE RED – Silver – 2016 Finger Lakes International Wine Competition, Silver – 2016 Farm Show Wine Competition, Bronze – 2012 Farm Show Wine Competition, Silver – 2010 Finger Lakes International Wine Competition, Bronze – 2010 Farm Show Wine Competition
TIONESTA SUNRISE – Silver – 2012 Atlantic Seaboard Wine Competition
DEPOT RED – Silver – 2016 Finger Lakes International Wine Competition, Silver – 2015 Farm Show Wine Competition, Gold – 2014 Finger Lakes International Wine Competition, Silver – 2013 Farm Show Wine Competition
LITTLE BEAR BLUSH – Silver – 2016 Finger Lakes International Wine Competition
HARVEST – Silver – 2015 Farm Show Wine Competition
TRADITIONS – Bronze – 2013 Farm Show Wine Competition
CRANBEARY – Silver – 2016 Finger Lakes International Wine Competition, Silver – 2015 Farm Show Wine Competition, Bronze – 2014 Farm Show Wine Competition, Bronze – 2013 Finger Lakes International Wine Competition
CHERRY GROVE CROSSINGS – Bronze – 2018 Finger Lakes International Wine Competition, Bronze – 2018 Farm Show Wine Competition